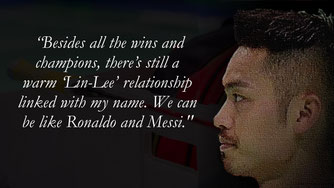 Es war wohl das letzte große Duell zwischen Lin Dan und Lee Chong Wei bei einem olympischen Turnier und wieder einmal wurde es allen Erwartungen gerecht! Der größte Zweikampf der Badmintongeschichte, der über 16 Jahre andauerte, hat wohl in Rio sein letztes Kapitel geschrieben. Kurz nach dem großen Spiel tauchten zwei angebliche Briefe zwischen den beiden Superstars auf, die ins englische übersetzt wurden und sofort in den sozialen Netzwerken für Aufsehen sorgten. Doch nun ist klar, dass die angeblichen Briefe gar nicht von den Superstars kommen.
Kurz nach Lee Chong Weis erneuter Finalniederlage bei den olmypischen Spielen verbreitete sich die Nachricht wie ein Lauffeuer. Scheinbar hatte Doppelolympiasieger Lin Dan nach seiner Niederlage eine emotionale Nachricht an seinen Dauerrivalen geschickt.
In dem fast schon romantischen Brief spricht Lin Dan über den gemeinsamen Werdegang und bringt seine Bewunderung für Lee Chong Wei zum Ausdruck und dessen Bedeutung für seine eigene Karriere: "Besides all the wins and champions, there's still a warm 'Lin-Lee' relationship linked with my name. We can be like Ronaldo and Messi, Larry Bird and Magic Johnson, Federer and Nadal, eternal because of each other's existence," heißt es unter anderem.

Kurz darauf tauchte auch eine ebenso emotionale Antwort von Lee auf. Doch so schön die Geschichte um die beiden Nachrichten auch ist, stellte sich schnell heraus, das weder der Chinese, noch sein Malyischer Gegner die Verfasser sind. Ein Fan hatte in einem Blog auf chinesisch die fiktiven Nachrichten verfasst. Diese wurden übersetzt und verbreiteten sich schneller als es der Urheber wohl für möglich gehalten hätte, jedoch wurde die nicht unwesentliche Überschrift vernachlässigt: Im original chinesischen Artikel steht wörtlich "如果他們彼此給對方寫一封信的話,他們又會怎麼说呢?" was so viel bedeutet wie, "Wenn sich beide einen Brief schreiben würden, wie würde er aussehen?"
Dennoch eine schöne Geschichte und wer weiß, ob die beiden nicht doch ein persönliches Gespräch nach ihrem wohl letzten großen Spiel hatten.
Hier eine Übersetzung des gesamten fiktiven chinesischen Briefs von Lin Dan:
The moment when you threw your racquet on the ground and performed a high jump with cheers and smiles after defeating me, I felt so happy and delighted for you deep down in my heart.
Both of us know each other for 16 years. Those were the days where pioneers like Taufik Hidayat and Peter Gade were still competing, we were just nobodys. Nobody knew who we are and nobody really cared and paied attention to our game. Speaking about that, I won the first match that we both battled against each other and I never ever thought that the battle will continue 16 years along the road with you.
Both of us went through a lot of defeats and victories together but I have to be a little proud of myself that I am a little bit luckier to own more victories against you in big competitions. Later i realized that you are no longer somebody that I can evaluate by victory and defeat, you are a player who bares bigger responsibilities than I do and both of us deal with our own sweat and passion.
Besides all the wins and champions, there's still a warm 'Lin-Lee' relationship linked with my name. We can be like Ronaldo and Messi, Larry Bird and Magic Johnson, Federer and Nadal, eternal because of each other's existence.
It's you who made and shaped me to who I am today. I have took most of the biggest championships that we have in our sports but the reason I never back down and be lazy is because you always push me to the core. Competition would be much easier without you but your presence creates challenges for me and always makes me burst into sweat when I actually don't have to.
Almost every meet-up we have is seperated by a net on the court and every single meet-up represents your effort and determination. Every single time I take a step forward, you will never back down and instead, u will choose to pursue me and never let me go. So when you train, I train, when you do not give up, I will also not back down.
Throughout all the processes, we turned old now and more young players are up in the battlefield to compete with us. Sometimes we text each other, talking about the young players about how tight their competition among each other is unlike us back then where there was only the two of us. Honestly, although there is only the two of us and it's 'lonely' but I really enjoy the process because it is only you who can bring the best out of me.
Without realising, here we are, meeting in the Rio Olympics for our 4th Olympics together. In the quarter-finals of the Olympics, I met Srikanth Kidambi of India and it wasn't an easy game for me but I pushed myself just because I know there is a promise I have to fullfil and the promise is to play against you, my greatest opponent.
On the 37th match we played against each other, I lost to you and honestly I have no regrets. You are my greatest rival and I am willing to lose to you. The moment when I hugged you, I really felt that everything that happened for the past 16 years is just like a dream.
I will take this jersey and show it to my child in future that there was a man named Lee Chong Wei who was Daddy's greatest rival and of course Daddy's best friend.
I have never regret knowing you and playing against you throughout thick and thin. Thank you so much!
Good Luck in the Finals. – Lin Dan."