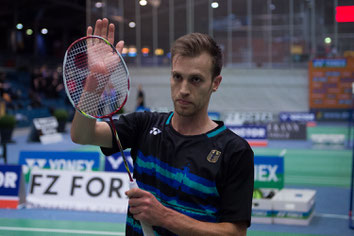 Kein Spieler prägte die deutsche Badmintongeschichte so, wie Marc Zwiebler. Über 15 Jahre sorgte der Einzelstar nicht nur für Siege und Erfolgsgeschichten, sondern schaffte es auch als erster Deutscher, in die absolute Weltspitze vorzustoßen. Neun deutsche Meistertitel, drei Olympiateilnahmen und sein phänomenaler Europameistertitel in 2012 sind nur einige Highlights seiner großen Karriere. Eine Karriere die nun in diesem Jahr zuende gehen wird. Das verkündete Zwiebler seinen Fans heute auf seiner Facebookseite in emotionalen Worten:
Hey friends, fans and supporters from all over the globe!
This is probably the hardest post I've ever made but it's time for this step: after this years world championships I'm going to retire from international badminton!
I've been around the tour and chasing my dreams for around 15 years now and looking back I can say that I've been incredibly lucky.
I could travel the world and was given the chance to do what I love for a living. I didn't archive all my goals and was devastated on many occasions during this time, but in the end I archived more and got rewarded for much more then I could have possibly imagined when I was a teenager!
Getting an insight into so many different countries and cultures of the world is more valuable than titles and money. I'm happy to call a lot of people good friends whom I never would have met without this fascinating sport! THANKS to all of you for always treating me as one of yours and for inviting me to your homes and families! Especially Indonesia and Malaysia feels like a second home for me…you know who you are
;)
Of course NONE of this would have been possible without the endless support of my family and friends back at home! They caught me when I was falling and they made sure that I stayed with both foot on the ground. I´ve lost a few friends along the way because sport required most of my time and energy, but i guess thats the price you have to pay as an athlete.
Also a big THANKS to YONEX, who supported me all the way for almost 20 years. Not just with equipment or money, but also as advisors and friends and they stuck with me even when the future didn't look promising. Thanks for always believing and supporting me!
There's too many other institutions and persons to name, but without my association, my home-club 1. BC Beuel and my current club 1. BC Bischmisheim, Deutsche Sporthilfe, DOSB, the team of Olympiastützpunkt Saarbrücken, LSVS and doctors and physiotherapists around Germany i would have never had the chance to become who I am.
A special thanks to my coach Xu Yan and all my other team mates and coaches to have endless patience, kicked my ass when i was lazy and gave me space when i needed it. I know I was far from easy as a player but I hope / think that after all we had tons of fun together!
I'll stay connected with badminton in many ways: I'll be playing the German league (and hopefully some international leagues too) and I'll try to get elected into BWF Athletes Commission to make sure the players voice is heard.
Another project related to badminton is the app called stringster (www.stringster.net), which I hope will boost Badminton's popularity around the world.
At the end of this year I'll try to end my Master of Arts in General Management and I'm happy to become a part of Recruitcon GmbH (www.recruitcon.de), a HR-recruitment business consultancy for small and medium sized enterprises.
As you can see I think it's safe to say that I won't get bored, but I guess a decision to turn your life around 180 degrees is never easy. I've been thinking about this step for the last 6 months because I felt that my motivation to work hard and do the extra step wasn't as high as it used to be. So after all I'm happy with my decision and it gave me extra motivation: to end my international career in the best way possible!
European Championships, Sudirman Cup, Thailand GPG, Indonesia PSS and world championships will be the last tournaments for me and I'm looking forward seeing many of you!
THANKS from the bottom of my heart to all of you who were not named here, all my fans who shouted and cheered for and against me and the incredible amount of volunteers and crazy people involved in badminton for the love of it! You make us players to always give our best and empowering us to go far behind our physical and mental limits!
Last but not least and big THANKS to all the other players around the world! It was an honor to play and fight against you. Apart from the rivalry (with all the small "dirty tricks"
;) ) I always felt comfortable spending time and sharing thoughts with you. I'm happy that we always treated each other with respect and I hope everyone of you reaches his goals on and off court!
What's left to say? I'm proud to say I've played my part in Badminton-Germany's development and I hope the young guns will fill up the gap pretty soon! If there's anything I can do just let me know!
Enough with all the talk now, time enjoy the weekend and to prepare for Europeans in Denmark!
THANKS everyone, speak to you soon!
Marc